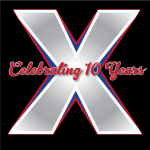 We are so excited to be coming up on our 10th anniversary. We owe so much of our success to wonderful Doctors who trust us with their patients and of course all of the incredible friends (patients) that have come to us for care. It has always been our goal to treat each person with the best care possible.
We hope you will help us celebrate. Please stop by to say Hello and stay tuned for more celebration activities.
Stay in the loop by clicking here.